Dear CLDI Family and Friends,
This month, our Rail//Line apprenticeship leader's blog resonated with me so much that I wanted to share it with everyone. It beautifully articulated our organization's core values of prioritizing people over programs. It captured our commitment to nurturing the holistic well-being of our people and tells the beautiful story of us bringing our whole selves past and all to the job. This blog truly encapsulates some of the essence of our company's culture and mission. I hope you enjoy this written blog from Elle Thompson.
"Sometimes, I find myself running into a loss of words when I get asked what I do for a job. I can describe what I am doing, but then I always follow it up with I take people grocery shopping, teach them how to drive, find them housing, watch their kiddos when no one else can, all the things. I am not asked to do any of these things on paper, but I have quickly found it has been something I enjoy about my role. I think I have a drive to be a helping hand because of the way I have lived most of my life. I have been meeting with a life coach for the past couple of months, and in the last session we had, she broke down for me my passions, strengths, and what she calls passports.

"My passions are what lights me up, the things that point to the pieces of God's heart that he put in me. My strengths are the divine natural abilities I have and the things I have learned. Passports are events that have happened to us throughout our lives that we have had to learn from to grow into what our actions are now or how God is using my story." 

I grew up with many hardships throughout my childhood; we moved homes basically once a year, my parents had ended their marriage due to affairs, and the loss of a younger sister. Because of some of these passports, I have created turning points or points of compassion in my life. I find I have a compassion point for women who are victims of abuse in relationships, single mothers, and kids who are yearning for parents to love them unconditionally. All because of my passports. We identified these points as some of my strengths that I can pull out of my tool belt for my job. I find that I have an undeniable desire to help and nurture. I do believe the foundation that was built for me had a lot to do with my passports. My purpose, the things that the Lord has provided me to mold me to be a nurturing, powerful listener, has best equipped me for my role at Rail//Line.

I say all of this, but I also grew up watching my older sister embody all of these things. She is the definition of a nurturing, compassionate, powerful, grace-filled listener. I strive to align my day-to-day life to hers. She created a childhood for me that was healing, light, and impactful. My sister (Abbie) is my biggest role model, hands down. Without Abbie, I truly believe I would not be in the position I am in today, with my job, my personal life, and my spirituality. She has always caught me when I fall and has shown me that even if I make mistakes or say the wrong things, she will still love me for who I am. That unconditional love has been a huge modeling tool for me as I build relationships in my life each day. Abbie inspires me to reach the communities that I invest myself in each day to plant my roots deeply and consistently, to laugh with them, nurture them, hold them on hard days, and be a good friend."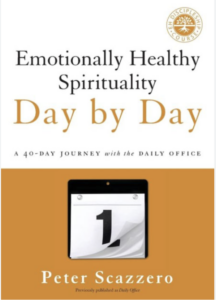 Currently reading & listening
Emotionally Healthy Spirituality Day by Day is a devotional book that offers daily reflections and exercises to help individuals cultivate a deeper and more authentic relationship with God while addressing emotional and spiritual health. Drawing from the principles outlined in the best-selling book Emotionally Healthy Spirituality by Peter Scazzero, this devotional guides readers through a year-long journey of self-discovery, emotional healing, and spiritual growth. It provides practical wisdom and spiritual insights for integrating emotional health and spirituality into everyday life. It is a valuable resource for those seeking a more holistic and transformative faith experience.
CLDI Monthly Snapshot
Our Rail//Line leadership team is attending a Relational Wisdom conference at the beginning of November! They are excited to learn, participate, and grow in wisdom as they lead Rail//Line.
The Hannah House was able to attend the Adult and Teen Challenge Gala. It was a really nice evening, with a dinner, and hearing some great testimonies from men who have graduated from the program.
Our CLDI staff participated in Red Ribbon Week at Newman, Orchard, and Ponderosa public schools. The purpose of Red Ribbon Week is to spread drug awareness and prevention. Participating in the school system and with students was an honor as we spread drug awareness.
Scripture to Meditate On
"For this reason, I bow my knees before the Father, from whom every family in heaven and on earth derives its name, that He would grant you, according to the riches of His glory, to be strengthened with power through His Spirit in the inner man, so that Christ may dwell in your hearts through faith; and that you, being rooted and grounded in love, may be able to comprehend with all the saints what is the breadth and length and height and depth, and to know the love of Christ which surpasses knowledge, that you may be filled up to all the fullness of God. Now to Him who is able to do far more abundantly beyond all that we ask or think, according to the power that works within us, to Him be the glory in the church and in Christ Jesus to all generations forever and ever. Amen."

Ephesians 3: 14-21
Paul is urging his listeners to join him in seeking a deeper understanding of God's love, with the ultimate goal of giving glory to God through the church for generations to come.
Blessings,
Kaleb Perdew